A big idea.
A brand birthed.
Created in 2010, JASON OLIVA [WINE] is Jason's foray into the wine industry.
Jason's vision started with a creative goal: to annually produce an exclusive, limited edition, vintage wine that showcases Jason's artwork in the form of a wine label. Each bottle is hand signed and numbered by Jason.
It started with a friendship.
In 2010, Jason commissioned South African winemaker Dirk Roos to bring his idea to life. Together, they created [Stripey Horse] 2008 — the first release of JASON OLIVA [WINE].
The writing was on the wall.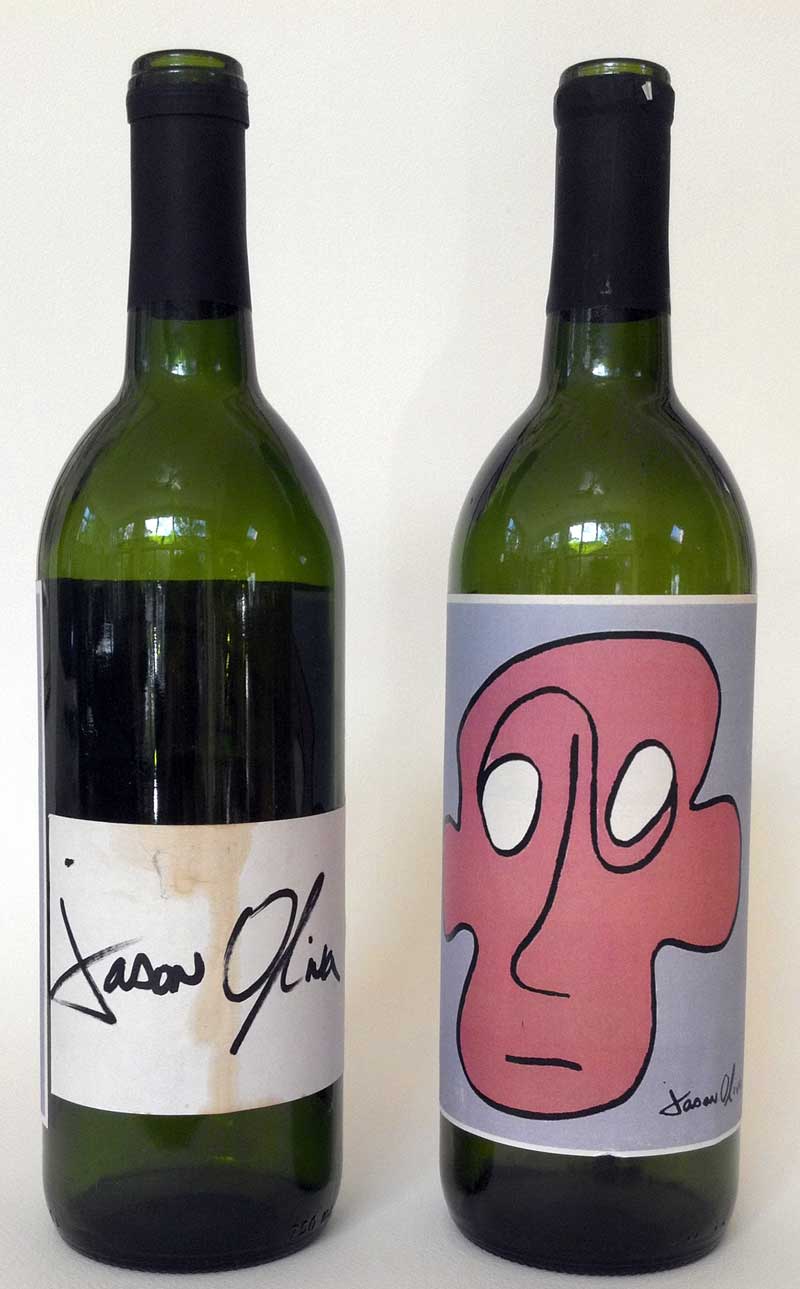 First art show. First wine label.
A decade or so later and directly influenced by Haring, Jason painted and printed his own labels for the wine that was going to be served at his first art show in New York City. Many of the empty bottles that were taken away by guests at the end of the night are still on display in collector's homes to this day.
Turning the winemaker/artist relationship on its head.
In 2010, Jason met South African winemaker Dirk Roos at New York Vintners in Tribeca, NYC.
Not only did their meeting reignite Jason's interest in showcasing his artwork through the medium of a wine label but it also occurred to him that perhaps, with Dirk's skills as a winemaker, he could flip the Rothschild/Haring idea on its head. In other words, instead of the winemaker commissioning the artist, Jason the artist would commission Dirk the winemaker to produce the bottle of wine on which his artwork would appear.
People had been commissioning Jason to make paintings for years, and he had grown to understand the amount of trust and freedom that I am granted during that process. He also recognized the enjoyment that people get out of commissioning artwork. So Jason thought the best way to further explore those ideas and learn more about his position in the world as an artist was to flip it. Get on the other side of that notion and experience what it would be like to commission another artist – i.e, Dirk.
In 2012, JASON OLIVA [WINE] was launched and years of hard work gave birth to Jason's first vintage, Stripey Horse (2008).
Stripey Horse (2008) arrived in New York City on June 14, 2012. And what a day that was! The wine went on to be lauded with excellent reviews. Stripey Horse won several tastings against a number of prestigious wines. The 250 bottle, 20 Magnum (limited edition release) sold out immediately. Collectors purchased individual bottles, multiple bottles, cases, and magnums for gifting, sharing, storing, saving for special occasions and — of course — drinking.
JASON OLIVA [WINE] has continued to release a bottle annually of wine that incorporates the same creativity, quality and integrity that the maiden vintage, Stripey Horse (2008), established on its initial release in 2012.
Now with the third release of JASON OLIVA [WINE] – MOOSE (2011) – which arrived in NYC in 2017, there is much to look forward to.
We invite you to join the JASON OLIVA [WINE] family by visiting our wine site at JasonOlivaWine.com.